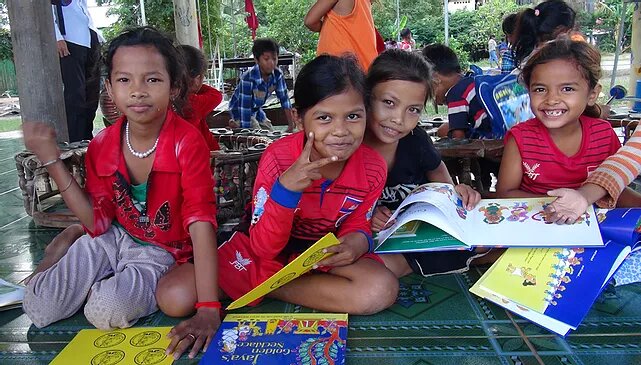 Kids in Cambodia with Buddhism for Social Development Action (BSDA, http://www.ccosc.org/en/partners/buddhism-social-development-action-bsda) enjoy Jaya's Golden Necklace. BSDA is a Cambodian-run NGO, established in 2005 in Kampong Cham by seven monks.
BSDA envisions a society where people are empowered to fully exercise their potential to live in dignity, peace and free of poverty. Stemming from this vision, BSDA's mission is to support and empower women, children and marginalized people in social development processes, especially health, education and livelihood promotion.
Over the last 8 years, BSDA has become a highly respected and trusted local NGO, improving the sustainable subsistence practices, welfare, skills, literacy and health awareness for the lives of many thousands of people in Kampong Cham and neighboring areas.
As part of the Mekong Kampuchea Kids Project, BSDA has provided training in computing and/or English to over 800 students and vocational training to 76 children, who were largely orphaned and vulnerable, in basic skills such as sewing, weaving, cooking and traditional dancing.
Thank you, BSDA, for sending these beautiful photos!